COVID-19 (Coronavirus) update: as part of the global effort to manage the effects of the current COVID-19 pandemic, and for the safety of our patients, community, and staff, The Memory Clinic is closed as of 3/17/20, until further notice. Please visit our Facebook page for up-to-date information.
UPDATE 4/21/20: We are thinking about you and your family during this challenging time. We hope that you remain safe and healthy, and that you continue to practice social distancing, as well as all other recommended practices.
For the time being, we are limiting the number of patients and family members to one family at a time. Due to this significant restriction, we are rescheduling new patients and follow-up patients for in-person appointments in June (or later) in the hopes that we will be able to resume seeing more than one patient at a time. Please note: some established patients have requested telehealth appointments which have been conducted. We are available for telephone consultation for existing patients. For medication refills, please call your pharmacy, who will contact us.  Any questions can be sent to us via voicemail (802) 447-1409, email (info@memorydoc.org), or fax (802) 442-5199. We have clinicians on call, and more information can be obtained by calling our main line at 802-447-1409.
Given the importance of finding medications and interventions to help slow the progression of Alzheimer's disease, we have resumed seeing patients involved in clinical research trials. We created a specific standard operating procedure (SOP) for COVID-19 (that we continue to monitor and track) to ensure the safety of patients and study partners during these appointments.
We have a screening process that is conducted the day before and the day of an appointment and one week later. The  SOP entails each individual being asked a number of questions regarding the presence of any symptoms related to COVID-19, as well as any recent travel.
All individuals (patients, caregivers, staff) entering the building are also required to wear a mask and to have their temperature checked, and if a fever is present they are not allowed to enter. We are only seeing one patient at a time in designated rooms to ensure the safety of patients, caregivers, and staff. Strict cleaning procedures are implemented before, during and after an appointment. We are abiding by this set of procedures to keep patients, caregivers, and staff safe and healthy. We recognize how important these treatments are for our patients and caregivers, which is why we have put this plan in place.
We want to continue to encourage you to check in on your loved ones, especially the elderly. Most are very isolated right now, and some do not have the resources that they need during this time. Just a simple phone call can really brighten someone's day, which is very needed right now in this ever-changing world of COVID-19.
If there are any questions or concerns, please call us at 802-447-1409. We hope that everyone is staying safe and healthy!
—————————————————-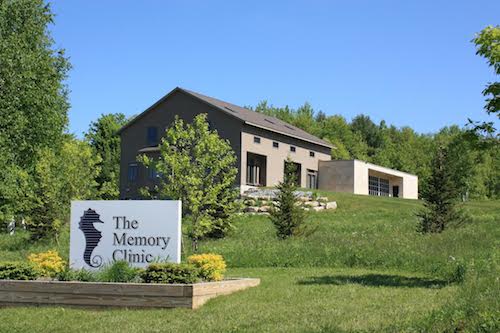 Since, 1987, Clinicians at The Memory Clinic have been providing diagnosis and treatment of memory loss.
We are located in nearby Bennington, VT
FDA-approved medications to treat the symptoms of Alzheimer's disease and other neurocognitive disorders are available.
Once a diagnosis is made, we offer follow-up testing to monitor the change in cognition and functioning.
Treatments to slow the progression of Alzheimer's disease are being tested today in clinical trials. These treatments can be added to most medications including other Alzheimer's disease medications.
Participation in clinical trials is always free of charge
Besides providing the initial new patient evaluation, we offer free memory screens, available Monday-Thursday, please call for availability.
Watch this video to learn more about The Memory Clinic: