An Evening with Olympic Athletes Julia Kern, Jessie Diggins, and Ben Ogden at The Memory Clinic: A Discussion on the Integration of Physical and Mental Health
Mark your calendars for Monday, September 25, 2023 from 5:30 pm to 7 pm for a fun and educational event! The Memory Clinic is teaming up with the Stratton Mountain School (SMS) T2 cross country ski team to talk about the integration of physical and mental health. Specifically, the importance of goal-setting and maintaining motivation to achieve those goals will be discussed.  
We will briefly provide an overview of some of the recent achievements in the field of Alzheimer's disease research, including the FDA-approved medications that are slowing the progress of disease. The keynote address will discuss lifestyle factors, such as diet and exercise,  and their role in overall health.
Our keynote speaker will be Olympic athlete and World Championship bronze medalist Julia Kern, of the SMS T2 team. Also in attendance will be Olympic gold medalist Jessie Diggins who will be greeting and signing copies of her book, Brave Enough. The first 50 attendees will receive a free signed copy of Brave Enough. We will have a Q & A also including SMS T2 member and Olympic athlete, Ben Ogden.
The entire Memory Clinic staff will be in attendance and available to answer specific questions from attendees. Thanks to help from FasterSkier, there will also be ski-related giveaways, and DJ Break Doctor will be spinning some upbeat tracks. This is a FREE event, so come join us for a fun-filled evening!
(click on the image below for a larger version)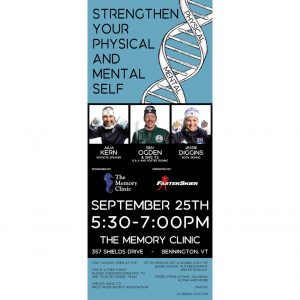 —————————————————-
NEWS: July 6th, 2023
July 6th, 2023 was an important and historical day for patients with Alzheimer's disease and their caregivers. Lecanemab (Leqembi) was given traditional approval by the FDA for the treatment of early stage Alzheimer's disease, and is the first disease-modifying treatment to be given this type of approval. Lecanemab (Leqembi) reduces beta amyloid plaque burden in the brain (a hallmark of Alzheimer's disease), and has shown concomitant slowing of the progression of cognitive and functional decline in Alzheimer's disease.
Furthermore, the Centers for Medicare and Medicaid Services (CMS) will broadly cover the treatment for those who qualify. The logistics are still being worked out, but physicians will need to sign up for a CMS facilitated registry. Patients will need to be enrolled in Medicare, have a diagnosis of mild cognitive impairment or early-stage Alzheimer's disease, with documented evidence of beta-amyloid plaque in the brain, and have a physician who participates in a qualifying registry. We will be receiving more information in the coming months regarding access to Lecanemab (Leqembi).
We would like to take this time to thank all of the patients and caregivers who have given their time and energy participating in the clinical trials for Lecanemab, and all other clinical trials for the treatment of Alzheimer's disease. Without the participants, caregivers, and family members, this treatment could not have been approved, so we thank you for your large part in bringing a new treatment for Alzheimer's disease to the public. As more information is released, we will share it with you.
—————————————————-
For information about plasma phosphorylated tau (p-tau, a.k.a. phospho-tau) and how it helps with Alzheimer's disease diagnosis, please see the following articles:
Plasma biomarkers for Alzheimer's disease: a field- test in a memory clinic
Plasma phospho‐tau in Alzheimer's disease: towards diagnostic and therapeutic trial applications
—————————————————-
About Us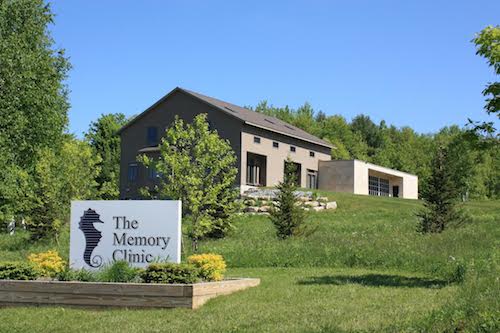 Since, 1987, Clinicians at The Memory Clinic have been providing diagnosis and treatment of memory loss.
We are located in nearby Bennington, VT
FDA-approved medications to treat the symptoms of Alzheimer's disease and other neurocognitive disorders are available.
Once a diagnosis is made, we offer follow-up testing to monitor the change in cognition and functioning.
Treatments to slow the progression of Alzheimer's disease are being tested today in clinical trials. These treatments can be added to most medications including other Alzheimer's disease medications.
Participation in clinical trials is always free of charge
Besides providing the initial new patient evaluation, we offer free memory screens, available Monday-Thursday, please call for availability.
Watch this video to learn more about The Memory Clinic: